National Citizen Service pilot feedback for minister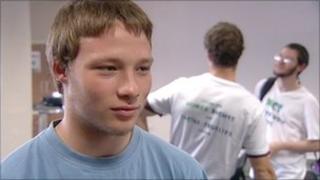 Young people and youth workers have been speaking to a government minister about how prospects for Britain's teenagers could be improved.
Civil Society Minister Nick Hurd was in Newton Abbot, Devon, to talk to people involved in a pilot for the government's National Citizen Service.
Some 9,000 people have been taking part in the pilot for 16-year-olds.
The aim of the summer programme is to develop young people's social and leadership skills.
Pilot support worker, 20-year-old Stacie Martin, who was a "self confessed troubled teenager" told the minister volunteering had changed her life.
'Value for money?'
"You kind of see that the world's a lot bigger than outside your front door," she said.
"There are other young people in much worse situations.
"Some are even hard to hear about, so just to be able to help them is amazing."
Teenager Douglas Morrell who took part in the National Citizen Service pilot said it had changed his outlook.
"I feel more confident in myself, but also more confident in others because I know I won't get messed around any more," he said.
Mr Hurd said the feedback received so far had been fairly positive.
"We're going to pilot again next year - up to 30,000 young people," he told BBC News.
"Then we'll take a view as to whether it's value for the taxpayer and whether it does enough for the young kids."