Cargo ship with America's Cup yachts berths in Plymouth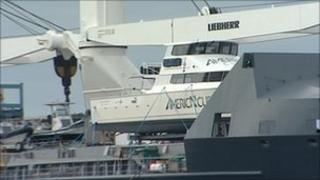 A massive cargo ship has arrived in Plymouth carrying the equipment and infrastructure needed for the city's leg of the America's Cup.
The specially chartered ship also housed the 45ft (14m) yachts that will compete in the sailing event.
The second round of the world series will take place from 10 to 18 September and is expected to generate about £10m for the local economy.
Plymouth City Council has not said how much it is contributing to the event.
It is the first time the city has hosted the prestigious international event.
Council leader Vivien Pengelly told BBC News: "It's a fantastic event to showcase Plymouth.
"I think we're really, really good at putting on big events here in Plymouth, but not many people know that.
"This will show everyone what we can do."
The first stage of the series took place earlier this month in the Portuguese town of Cascais and the final leg of the qualifying event will be held in San Diego, California, between October and December.
Giant cranes are now unloading containers and yachts from the cargo ship, HR Constitution, at Millbay Docks.
Peter Ansell, onshore operations director for the America's Cup, said it was a large, logistical exercise.
"The fact that we have to have our own vessels means it's a travelling road show from place to place," he said.
"Just loading the vessel requires quite a bit of planning to make sure the containers are put on in the right order so they can come off in the right order."
The contents of the containers will transform part of Millbay Docks to the equivalent of motor racing pits where spectators can get close to the boats free of charge.
Tens of thousands of people are expected to watch the teams competing in Plymouth Sound in the newly designed AC45 catamarans.
Onshore entertainment
The city council has also said a major programme of entertainment will offer visitors all they could want, including live music, food, shopping and a race simulator.
The America's Cup is named after the yacht America which sailed from the east coast of the United States in 1851 to race against British yachts.
America won the race and the trophy was donated to the New York Yacht Club under a Deed of Gift that still governs the competition.
No British team is competing in the event.