Hospital discharges polar bear attack leader Spike Reid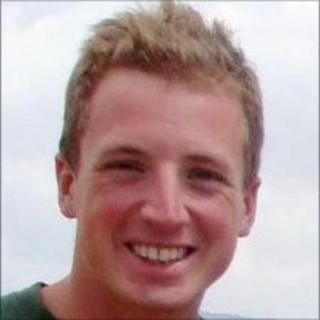 The man who shot dead a polar bear that attacked a group of students in Norway has been released from hospital.
Group leader Michael "Spike" Reid, 29, from Plymouth, was one of five people mauled by the animal in Svalbard on 5 August.
Eton schoolboy Horatio Chapple, 17, lost his life in the attack.
Mr Reid, who has undergone three operations for head and face injuries, was discharged from Derriford Hospital in Plymouth.
About 80 people had been taking part in the Norwegian trip, organised by the British Schools Exploring Society (BSES).
The polar bear attacked the BSES campsite, near the Von Post glacier, about 25 miles (40km) from Longyearbyen.
Andrew Ruck, 27, from Brighton, 17-year-old Patrick Flinders, from Jersey, and 16-year-old Scott Bennell-Smith, from St Mellion in Cornwall, were also injured in the attack.
Polar bears are the largest land carnivores, reaching up to 8ft (2.5m) and weighing 800kg (125 stone).
In a statement, Mr Reid's family said he had "begun the long road to recovery".
It said he had paid his own tribute to the dead schoolboy, saying he had been "deeply saddened" by his death.
"His [Spike's] wounds will take some time to heal," the statement said.
"Spike is extremely grateful to the staff of Derriford Hospital, Plymouth and to everyone involved in his medical treatment in Norway and his repatriation home.
"Most of all, he is thankful to the brave young explorers of the Chanzin Fire [BSES group] for their quick thinking in summoning help and providing first aid."
Speaking of Horatio, who came from Bishopstone in Wiltshire, the statement said Spike had "a great deal of admiration for this impressive young man".
The family had been "professionally and sensitively" supported by the BSES, the statement said.
It concluded by saying Mr Reid's recovery was "an entirely private matter" and no interviews would be given.