Devon boy born 17 weeks premature to start school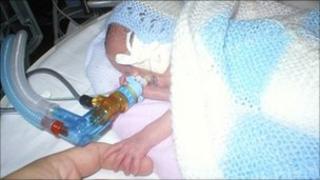 A five-year-old boy from Devon who was born 17 weeks premature will start school this September, something his parents thought would never happen.
Theodore Ruskin's mother Heidi, from Totnes, had expected to have a miscarriage and began planning his funeral while pregnant.
She said he had numerous operations during his first five months, but has no lasting health problems.
Theodore will start at Dartington Primary School on 8 September.
'Struggled for life'
Ms Ruskin said she gave birth to Theodore in the 23rd week of her pregnancy and feared if he did not survive, he would not be treated like a "proper human being" because he was born so early.
During labour "there was a crying noise and I couldn't believe he was alive, it was absolutely amazing", she said.
"It was a huge shock when I first saw him, he was so tiny.
"Some of his body wasn't fully formed, he couldn't see, he looked very alien-like because his skin was so see-through."
Ms Ruskin said that during the first eight weeks, Theodore "struggled for life, because his lungs couldn't hold the oxygen".
As the initial weeks progressed, "his brain haemorrhage and heart condition resolved, but there was always something to worry about, he was never out of the woods", she said.
Ms Ruskin said he has no lasting health problems because of the premature birth.
"I cannot believe he is going to school, this is something we never thought would happen," she said.
"We're all so proud of him and he's one of the happiest boys you're ever likely to meet."