Plymouth buses keeping advance young person fares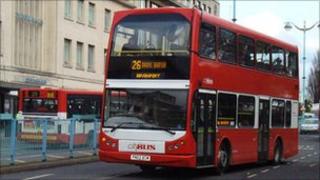 Young people in Plymouth will still have concessionary fares for journeys before 09:30, a bus firm says.
Plymouth CityBus had planned to make students aged up to 23 pay £3.50 from September if they wanted to buy a ticket from drivers before 09:30.
Prepaid bus passes already offered cheaper rates, but a new concession bought in advance through a card system would mean £1.33 a trip, the firm said.
However, they were not available from drivers when boarding, it added.
Ticket budgeting
The increase of early boarding fares - which would have seen a £1 increase to £3.50, and which was criticised by students, parents and head teachers - was due to rising operating costs, it said.
The new concessions were available through the young person's/student multi-trip tickets on a new key smart card system, CityBus said.
It would cost £16 for 12 single journeys, working out at £1.33 a trip.
However, they could not be bought from drivers and had to be pre-purchased online, or from the CityBus travel centre in the city's Debenhams store on Royal Parade, it added.
The company, which operates routes around the city and to Saltash in Cornwall, said it had introduced the multi-trip tickets following concerns voiced by parents regarding the withdrawal of boarding discounted tickets.
Managing director Andrew Wickham said the new scheme would help parents to budget for their child's daily travel.
He added: "Those journeys can be made at any time and the ticket can last for months and months.
"If someone uses the bus just two or three days a week, that's probably the best ticket for them."
Single journeys for young people and students after 09:30 will cost £1.
Weekly, monthly, 13-week and annual passes were also still available, the company said.
The new fares start on 5 September.