New 'safer' Dartmouth boat slipway planned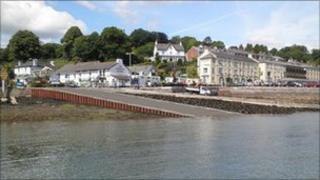 A new boat slipway is being planned for a Devon town because the council fears vehicles could "slip over the edge" of the existing one.
Dartmouth's current slipway is narrow, does not have a kerb and is being eroded by the river, South Hams District Council said.
The authority wants to build a slipway next to the existing one.
The town's current slipway is used by the inshore lifeboat and sailing clubs.
South Hams District Council member for Dartmouth and Kingswear, Hilary Bastone, said: "This is welcome news.
"It is long overdue - work towards this started in the 1990s now it is good to see it is coming to fruition."
The council said the cost of the project was unclear at this stage.
The proposals will be on display in Dartmouth's Guildhall from 5 September.