Dartington stages UK's 'first' social justice festival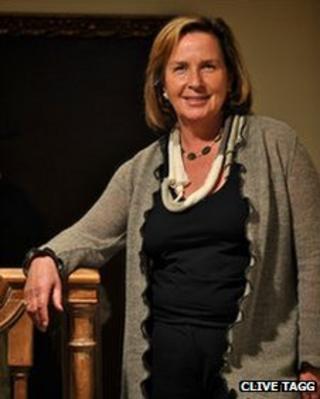 Celia Atherton is the woman behind what is being billed as the UK's first festival of social justice.
The theme of September's Interrogate! festival at Dartington Hall in Devon is wealth inequality.
Mrs Atherton, director of Social Justice at Dartington, said that with the recent UK riots the subject matter was a timely one.
She said it was "extraordinary" that the rioters were looting "symbols of wealth" like flat screen televisions, trainers, clothes, jewellery and champagne.
"We've created a society where people want status symbols to be looked up to.
"It's not just about the poor, it's about what all of us can do to live happier lives."
'Make a difference'
Mrs Atherton said the festival was "an experiment" and aimed to bring people together to debate "important subjects, like whether being a consumer society makes us a happier society".
She said: "There has been a burgeoning of music festivals and literary festivals but a lot of it is about entertaining yourself and taking yourself away from the world.
"I thought, 'what if you could have a festival where you could have really good fun but you could also think about important subjects in a different way'."
She said was inspired to explore wealth inequality in a populist way by the book The Spirit Level, whose authors Kate Pickett and Richard Wilkinson will be appearing at the festival.
The book claims that the more equal a society is, the better off all its citizens are in virtually every indicator of health and wellbeing.
It hit the headlines in 2010 when it was enthusiastically cited by both David Cameron and Labour leader Ed Miliband.
Mrs Atherton said efforts had been made to keep prices for the festival (£40 for a weekend ticket) "as low as possible".
She said: "We'd like people to go away having had a good time, having a learned a bit more and having had an idea about how they can make a difference."
The Interrogate! festival takes place at Dartington Hall, near Totnes, from 23 to 25 September.