Emergency crews in two Dartmouth Regatta rescues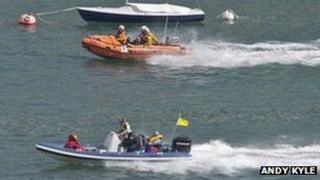 Rescue teams taking part in a demonstration at Dartmouth Regatta were called on to perform two simultaneous real-life rescues.
The RNLI said just after 13:00 BST a man was rescued from under his capsized dinghy and flown to Derriford Hospital.
And a 61-year-old man suffered head injuries being knocked overboard from a yacht and was flown to Torbay Hospital.
The RNLI was demonstrating air-sea rescue techniques with a Sea King rescue helicopter crew at the time.
During the demonstration the RNLI said crew members saw a race safety boat returning to harbour "at maximum speed with a casualty on board".
The casualty was "seriously ill" after being trapped under his capsized Sailability Hawk dinghy for five minutes.
He was treated by the crew of the Dart inshore lifeboat and members of the St John Ambulance and transferred to hospital.
A sailor on board the racing yacht Impi's crew suffered a head injury after being hit by the boom and knocked overboard.
Two members of the lifeboat crew were transferred to the Impi to assess the man before he was flown to hospital by the RNAS Culdrose helicopter which had been taking part in the demonstration.