South Devon Railway hosts 'Rails and Ales' festival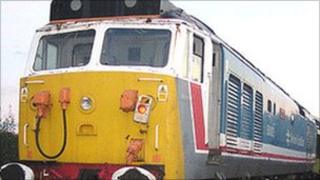 Hundreds of people have attended a "Rails and Ales" festival in Devon.
Special train services have been carrying passengers to Staverton station, home of the South Devon Railway Trust's Devon Diesel Society.
Proceeds from the festival will be used to help restore the society's largest locomotive.
The 117-tonne Class 50 D402 was used during the 1970s and 1980s to haul express trains from London Paddington to the South West.
Festival extended
Passengers were carried on a mix of classic steam and heritage diesel locomotives.
More than 50 real ales and traditional ciders have been on offer at the Staverton festival.
"Rails and Ales has now become an established annual event on the South Devon Railway and this year, due to its popularity, we have had to extend it to a full four days," said DDS chairman Andy Matthews.
When the festival finishes on Monday evening, more than 2,000 people are expected to have taken part.
"It's been a great succes... with trains extremely full and the ale festival doing better than ever," a DDS spokesman told BBC News.
Last year 112,000 passengers travelled on the South Devon Railway, the highest number of people in the organisation's 19-year history.