Paraplegic man trapped under boat at Dartmouth Regatta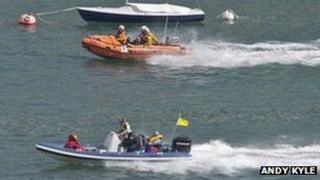 A former lifeboat man helped to rescue a paraplegic sailor at the Dartmouth Regatta in Devon.
The sailor, who was strapped into his dinghy, was trapped under its hull for about four minutes after it capsized on Saturday.
The crew of a nearby race support boat managed to get the man, believed to be from Brixham, out and resuscitate him.
Crew man Colin Bower, who spent 35 years with Torbay Lifeboat, said: "I didn't think that he'd survive."
'Ostensibly dead'
He added: "It was lucky that we happened to be there."
Mr Bower and his crew mate Matthew Reed had been watching the dinghy race in the middle of the course when they saw the upturned Sailability Hawk 20 keel boat.
Although their main role was to relay race scores, Mr Bower said "the old RNLI skills are still there".
They found three able-bodied people in the water and dragged them out before learning that one man was still trapped "down below the boat".
Mr Bower said the skipper of another support boat had used a rope to pull the dinghy on to its side before Mr Reed, a former navy diver, managed to free him.
He was not breathing when he was dragged into the support boat, Mr Bower said.
'Recovering well'
"He was ostensibly dead, I didn't think he'd survive.
"Fortunately he started breathing."
The men resuscitated the man before taking him back to Dartmouth quayside accompanied by an RNLI inshore lifeboat.
He was airlifted to Derriford Hospital in Plymouth and has since been discharged.
Dart Sailability said: "We are glad to report that the crew member is now home and recovering well.
"We would like to thank the crews of the safety boats, the emergency services and our volunteers who all performed brilliantly in carrying out the rescue."