Stork dubbed 'world's ugliest' born at Paignton Zoo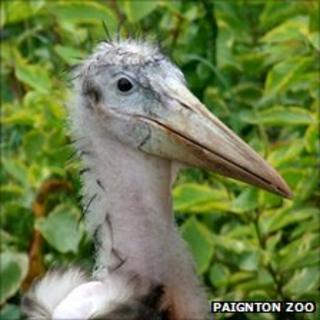 A rare stork has been born for the first time at a Devon zoo.
Although described by Paignton Zoo as the "world's ugliest bird", staff said the marabou stork was still an impressive creature.
They can stand up to 4ft 11in (1.5m) tall, have a wingspan of 2.9m (9ft 6in) and weigh up to 1st 5lb (9kg), it said.
The birds are normally found on the grassy plains and water margins of Africa, and are sometimes seen flying with vultures to seek carcasses.
The chick, which has a bald, pink, scabby head; huge bill and a taste for carrion was born on 11 May.
Staff said they were overjoyed at the chick's progress as it was only the second time the species had bred in the UK.
The other chick was at a zoo in the Midlands.