Sense's deafblind cafe a 'success' in Exeter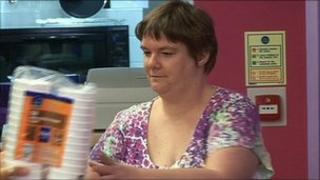 A charity cafe in Exeter, run by deafblind volunteers, will have its opening hours extended after a pilot scheme was deemed a success.
The charity Sense, opened Cafe 55 in the city last year, and has decided to extend its opening times from one, to three days a week.
The cafe is run by deafblind volunteers who cook and sell the food.
About 10 volunteers have been working at the cafe, which was the charity's first in the country.
'Positive experience'
A Sense spokesperson said: "The service allows deafblind people to gain experience from working in the catering industry while meeting like-minded individuals.
"The whole scheme has been such a positive experience for all involved."
The deafblind volunteers have sign language interpreters to help them communicate with customers.
Claudine Alderman, is training to be a volunteer.
"I think it's very good for the deaf community because you can meet new friends and lots of different people," she said.
The charity said it would like to open other cafes in the UK, although it had no fixed sites or dates at this stage.