Replacement therapy yacht sought for Plymouth troops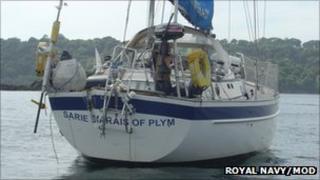 Royal Marines want a boat to borrow after a yacht used for therapeutic sailing lessons was damaged.
The Sarie Marais was moored off Drake's Island in Plymouth Sound when it was damaged on 21 August.
It is not known how the damage to the 39ft (12m) yacht was caused but repairs are estimated to cost thousands.
The lessons which help personnel returning from Afghanistan recuperate could be in jeopardy if a replacement vessel is not found, the marines said.
The Sarie Marais, which belongs to Royal Marines based at Stonehouse in the city, suffered damage to its stern.
It had been scheduled to provide rest and recuperation for returning personnel from September until May 2012.
But the sailings might not go ahead if a replacement is not found, the Royal Marines said.
Colour Sgt Martin Aldrich, from Royal Marine Stonehouse, said: "Without a replacement, the Royal Marines returning from Afghanistan will not be able to partake in the Ocean Sailing Adventurous Training that has been organised to help with their rest and recuperation.
"This is a vital part of the post-deployment process."
Training staff were trying to locate a suitable yacht to borrow, he said.
It was suspected that a vessel struck the yacht and left the scene without reporting the collision, the Ministry of Defence (MoD) said.