Rider Hendrik Wiegersma recovers after lawnmower crash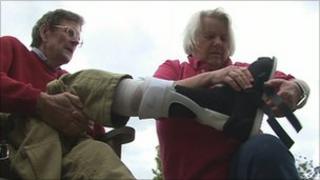 A retired horse rider has described how he had a "long night" after being trapped under a sit-on lawnmower for almost 12 hours.
Hendrik Wiegersma was trapped underneath the half-tonne machine at his home near Hatherleigh in August.
The 62-year-old former international rider suffered broken bones, damaged internal organs and petrol burns.
He currently has little feeling in his lower legs, but said he planned to get back to riding when he could.
Mr Wiegersma was mowing a stretch of grass at the top of a bank when his machine toppled over the side, leaving him trapped between the mower and a tree.
He did not tell his family that he was going mowing at about 17:00 BST and had not taken his mobile phone with him.
He was found fully conscious at about 04:30 the next morning.
He said: "It was complacency, I was not concentrating, and, all of a sudden, the thing started to roll.
"I hit the tree with an enormous thump and thought: 'That's hurting'.
"I thought: 'Oh, this is not funny'. Then you start thinking: 'Am I going to survive this? Is anybody going to find am I going to survive?
"It was quite a an experience that night, and it was a long night."
He suffered a broken hip, broken ribs, punctured lung, kidney damage and multiple burns to his legs from petrol.
'Real damage'
He was airlifted by a Devon rescue helicopter to a burns unit at Bristol's Frenchay Hospital.
Mr Wiegersma said: "If you get petrol on skin and evaporates and it's washed off, it does no damage
"But I was lying in it for 12 hours and that's what has done the real damage."
He has undergone multiple skin grafts, but still has little feeling in his lower legs.
Mr Wiegersma - who rode for Great Britain and is father of one of Britain's current leading event riders, Lucy Wiegersma - said he was hoping in time that the feeling would return.
Now back home and using a mobility scooter, he added that he was also determined to be back in the saddle again soon.