Hemerdon tungsten mine secures £4m funding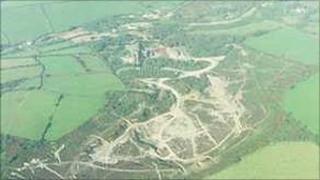 A company that plans to restart a Devon tungsten mine says it has secured £4m of funding to develop the site.
Australian company, Wolf Minerals, claims the mine, at Hemerdon near Plymouth, holds one of the world's largest sources of tungsten.
It said the money would be used to pay for a new link road, recruitment and archaeological work at the site.
The company said it had accepted the money from Resource Capital Fund, a private equity firm.
Jeff Harrison, Devon-based consultant for Wolf Minerals, said: "It's going to employ around 230 people locally."
He said the project would allow people who used to work in the mining industry to return.
'Some drawbacks'
Devon County, South Hams District and Shaugh Prior Parish Councils have been pressing for a new link road near Hemerdon.
The road, between Lee Moor and Plympton, is part of a planning package that has been agreed between the company and Devon County Council.
Councillor Keith Stone, from Shaugh Prior Parish Council, said: "I think it should have a positive affect on the neighbourhood, but there are some drawbacks, like traffic and dust."
Mr Stone said the new jobs had to be a good thing.
Wolf Minerals said it hoped mining would start in early 2014.
The Australian firm is investing more than £100m in the mine and said it could reap more than £600m over the next 10 years.
Tungsten is a heavy grey-white metallic element used in metal-working, construction and in the manufacture of electrical equipment and light bulbs.
The booming economies of China and India have increased worldwide demand.
A deposit of tungsten was first discovered at Hemerdon in 1867 and mineral-working was carried out between 1919 and 1920 and again between 1934 and 1944.