Fun day marks restoration of Devonport Park in Plymouth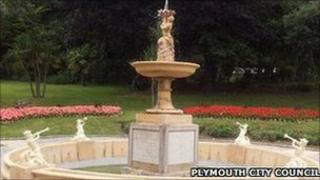 A fun day has been held to mark the end of a £5.2m restoration project of Devonport Park, in Plymouth.
It was previously overgrown and there was a "perception that it was not safe" to use, said Mike Gallagher, from the Friends of Devonport Park.
The money has been spent on facilities including a new cafe, community room, pavilion and restoration of the paths and gardens, he added.
Organisers said the fun day would include the re-enactment of the first official event in 1895, which marked the handover of the park from the War Department to the Devonport Corporation.
Councillor Mike Leaves said: "This project has been a phenomenal success - visitors are up massively, people have a huge sense of pride and ownership and help to look after it."
The project was funded by the Friends of Devonport Park, Plymouth City Council and the Devonport Regeneration Community Partnership.
An £80,000 Heritage Lottery Fund grant paid for the restoration of the park's fountain.