Bronze statue to commemorate RAF Exeter fighter pilots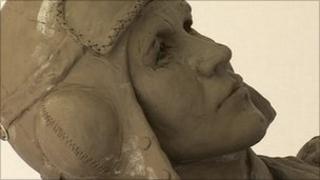 Airmen who flew out of RAF Exeter during World War II are to have a dedicated memorial.
A life-size bronze statue is being created by sculptor Frances Margaret and will be sited outside the base - now Exeter International Airport.
The memorial project was launched in 2007 and has cost an estimated £50,000.
The South West Airfields Heritage Trust said the statue would be a "well earned tribute" to the airmen who flew from RAF Exeter.
It said fighter pilots from Belgium, Australia, New Zealand, Canada, Poland and the UK not only played a major role in the defence of the UK, but also the liberation of German-occupied Western Europe.
Twenty-two fighter pilots from RAF Exeter were killed during Battle of Britain.
The bronze statue depicts a pilot after a mission in August 1940 when out of the 14 Hurricane fighters scrambled, four planes were lost with the death of three pilots.
"He's holding his hand aloft and waiting for his friends and the rest of the flight," the sculptor told BBC News.
"He's shielding his eyes from the sun looking into the sky and he's wondering how many will come back."
More donations are needed to complete the plinth the statue will stand on, which has been designed to carry up to six plaques explaining the history of RAF Exeter.
The trust said it hoped the statue would be in place by the end of the year.