America's Cup crew escape as catamaran capsizes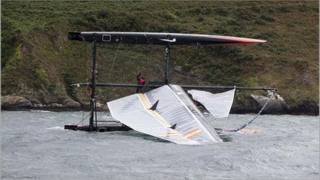 Five crewmen escaped uninjured after their America's Cup catamaran capsized in gusty winds in Plymouth Sound.
Green Comm Racing suffered what appears to be minor damage to the top of the wing-shaped sail.
Skipper Vasilij Zbogar said the 45ft (13m) boat went over after a gust approaching 30 knots struck when many of the crew were on the bow.
Nine teams will be competing in the America's Cup world Series in Plymouth from 10-18 September.
Zbogar said: "Today was quite gusty. In these conditions, with these boats, you have to be 100% all the time.
"A few things went wrong and we capsized.
He added: "It was a good experience, we got the boat up quite quickly, and we'll try not to make the same mistake when we are racing."
The first stage of the series took place earlier this month in the Portuguese town of Cascais and the final leg of the qualifying event will be held in San Diego, California, between October and December.