More visitors at Plymouth's National Marine Aquarium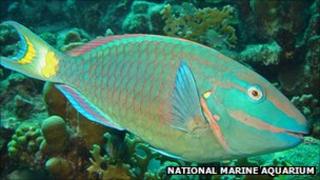 The National Marine Aquarium in Plymouth has seen an increase in the number of summer visitors.
It said more than 52,000 people visited the Devon attraction this summer - an increase of 6% on the previous summer season.
One of the most popular exhibits was the Eddystone tank - designed to mirror life on Plymouth's Eddystone Reef with grey mullet, conger eels and wrasse.
Dr David Gibson said visitor numbers "surpassed even our own expectations".
Dr Gibson, the aquarium's managing director, added: "There's no doubt that it's been a challenging year for us and the tourism industry as a whole... but as usual, the team at the aquarium really added that special touch to everyone's experience."
The aquarium, which opened in 1998, is thought to be one of the largest aquariums in the UK and has about 400 species of fish.