Cyclists fight for Plymbridge Woods trails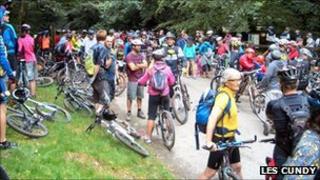 Cyclists have hit back at claims that planned mountain bike trails would damage woodland near Plymouth.
The National Trust wants to spend £800,000 creating 15km of trails as well as a bike hire centre and a cafe at Plymbridge Woods.
Opponents, including Friends of Plymbridge Woods, say the trail will damage the woodland.
Cyclists have created a Facebook page and about 200 held a meeting on the site in support of the plans.
Traffic fear
Father-of-three Dave Lane told BBC News: "We feel incredibly lucky to have this funding for this exciting project.
"The trails will be created in an environmentally friendly way, a lot of which will be done by hand.
"It will dissipate conflict between walkers and cyclists.
"Anything that encourages children to get into the woods and enjoy the opportunities of the outdoors has to be a good thing."
Many people living in the area fear noise an increase in traffic as people drive to the centre and have concerns about the effect on wildlife.
Mr Lane acknowledged there would be increased traffic but said it could be managed, adding that most people would cycle there along an established route from Coypool in Plymouth.
The National Trust came up with the idea as part of a £7.5m investment in off-road cycling in Devon and Cornwall.
The plans are due to be considered by Plymouth City Council on 22 September.
The National Trust said the trails had been designed with an independent ecologist and no mature trees would be taken down.