Tavistock recycling boss fined over waste bonfire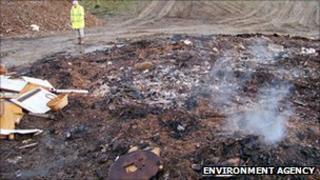 A recycling boss who claimed he was having a traditional 5 November bonfire has been fined for burning waste.
Roger Sparling runs a waste transfer station at Hayev Down, Tavistock, Devon.
After the fire was reported to the Environment Agency, officers found partially burnt remains of metal cans, melted glass, tyres and a mattress.
Sparling pleaded guilty to illegally disposing of waste by burning and was fined £4,000 and ordered to pay £2,300 costs by Plymouth Magistrates' Court.
The fire was reported by a member of the public who suspected plastic or rubber was being burned because of the size of the flames and the black "acrid" smoke.
When agency officers visited the site and spoke to Sparling, he claimed the bonfire was a traditional 5 November celebration for his staff and family.
He runs a waste transfer station that adjoins an old landfill that he uses to store waste materials awaiting recycling.
When officers arrived they found the remains of a "very large" fire measuring approximately 40ft (12m) across on the site of the old landfill.
The centre was still smouldering and contained the partially burnt remains of various waste items.
Despite the Guy Fawkes bonfire claim, there were no fireworks, the court heard.
Agency officers told Sparling the size of the fire was "excessive".
They said it was apparent the fire had contained more than just clean wood and that a large quantity of skip waste had been illegally burnt.
Agency spokeswoman Sarah Taylor said: "When 5 November is used as an excuse to get rid of unwanted waste materials that have the potential to cause harm to human health and the environment, we won't hesitate to prosecute.
"People paid good money to Mr Sparling to dispose of their waste safely and he should have done so and not just set fire to it."