South Devon bypass scheme 'needs government funding'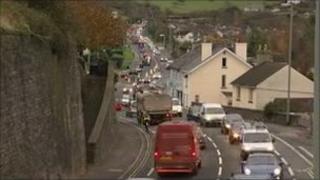 Plans for a new road in Devon have been submitted to the government in the hope the scheme can secure £76.3m in funding.
The South Devon Link Road bypass between Newton Abbot and Torquay is estimated to cost £110m.
Devon County Council and Torbay Council said they would contribute £33m between them. Teignbridge District Council said it would pay up to £500,000.
The Department for Transport is due to make its decision in December.
It had initially been willing to provide more than £100m for the project but that was cut because of government savings.
Torbay and Devon County Council agreed to increase the amount of money they would contribute towards the scheme from £10m to £33m.
'Very expensive'
Those in favour of the bypass claim it is vital to the economy of south Devon and will also reduce congestion, improve air quality and improve road safety.
But opponents claim it would damage the village of Kingskerswell by stopping traffic travelling through it and disrupt the ecology of the surrounding countryside.
Opponents of the scheme said it was not a good use of public money in a time of austerity.
The Kingskerswell Alliance said they did not believe the proposals were the correct way to tackle the situation.
The group said it was very expensive and would irreparably damage the countryside surrounding the village.
Leader of Devon County Council John Hart said: "This is a vital scheme which will have great benefits for the economy of south Devon.
"It will help to create nearly 8,000 new jobs for local people," he added.
If the bid was successful, work could start in autumn 2012, with the bypass open by the end of 2015, Devon County Council said.