Dart Princess river ferry set adrift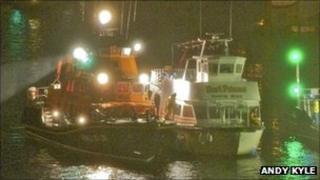 Two boats moored in the River Dart were hit by a passenger ferry after it was set adrift early on Saturday morning.
Both boats received minor damage as the 50ft Dart Princess ferry was seen drifting out towards the open sea with the tide at about 03:50 BST.
The drifting ferry, with two people on board, was secured by the Torbay lifeboat and returned to her moorings.
Police said a man and a woman had been arrested in connection with the incident.