Living Coasts 'adds £4m' to Torbay economy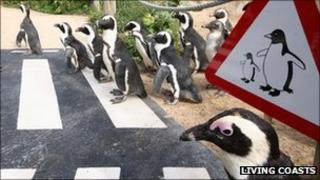 A Devon zoo has contributed more than £4m to the local economy each year, according to a report.
Living Coasts, in Torquay, attracts more than 100,000 people per year and employs 48 full-time members of staff.
Torbay Development Agency, who produced the report, said visitors spent about £2.9m per year in the area.
It said spending from Living Coasts and its staff also contributed towards the £4m.
Living Coasts director Elaine Hayes said: "It is one of a limited number of visitor attractions that supports the Torbay economy all year round."
The attraction opened to the public in 2003.