Philip Schofield honoured by Plymouth University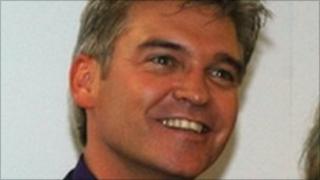 The television presenter Philip Schofield and the explorer Sir Ranulph Fiennes are to be awarded honorary doctorates from Plymouth University.
The university said Schofield, who grew up in Cornwall, was being honoured for his stage and television career.
Sir Ranulph is to receive an Honorary Doctorate of Science.
Plymouth diver Tom Daley and his coach Andy Banks will receive the university's new Sporting Colours award.
The university said the award was for people who "embodied the spirit of partnership and inspired others".
Vice-chancellor Professor Wendy Purcell said: "Each year we have the privilege of bestowing the highest academic honours upon a select number of distinguished people whose achievements reflect the mission and values of our University across a range of disciplines.
"I am very proud of all our graduates - they distinguish this university through their efforts."
The recipients will receive their awards and doctorates during the university's graduation week later this month.