Dartington villagers unhappy at trust's trademark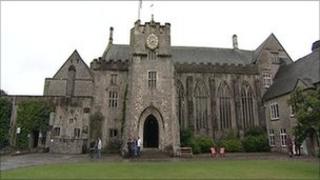 People in a south Devon village said they are "disgusted" that a local organisation had trademarked its name.
The Dartington Hall Trust has registered the name Dartington as a trademark and has begun using it on all its branding.
But some residents of the nearby village of Dartington, near Totnes, said the move was "pure arrogance".
The trust said it had rebranded to "protect" its own name and activities and reflect how people talk about it.
Terry Parsons, from Dartington Parish Council, told BBC Radio Devon: "I am upset to think they think they can do this sort of thing.
"They're taking over the village name, I'm absolutely disgusted for them to think they can get away with naming all their different activities just in the name of Dartington."
Bob Mann, a local resident and writer, said: "They're ignoring a useful historic distinction, Dartington is the name of the parish and has been for over a thousand years.
"I think it's hubris... it's the sort of arrogance that comes before a sudden fall."
The Dartington Hall Trust is a charity which runs the Dartington estate, which includes the Shops at Dartington complex, a cinema, arts venue and social justice and sustainability projects.
It also runs and hosts events including the annual Ways With Words literary festival, a music festival and summer school and the forthcoming festival of social justice.
It used to be home to the Dartington College of Arts, which controversially moved to Falmouth in 2010.
Vaughan Lindsay, the trust's chief executive, said: "We need to be sure we protect the brand name of the trust.
"There are a number of instances where people have tried to set up activities pretending they were part of the trust, which they weren't.
"All we're seeking to do is prevent the potential abuse of the name Dartington in relation to Dartington Hall Trust's own activities.
"Of course we're worried about how the community feel and we're very sensitive to how this may be perceived, but we need to protect the best interests of the trust as well."
An employee of a business based in Dartington, who wished to remain anonymous, said: "Am I alone in thinking this is not the behaviour of a charity that wants to have a good relationship with the community in which it resides?"
Mr Lindsay said the trust had held meetings with local community members about the rebranding and had listened to people's concerns.
But he admitted it had decided to go ahead with the rebranding anyway.
According to the Dartington Community website, the village's name first appeared in 833AD in the records of King Egbert of Wessex.