Exmouth bride Eve Lewis travels to her wedding by bus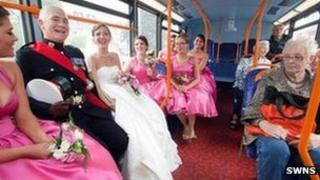 A Devon bride broke with tradition by arriving at her wedding on a public double decker bus.
Eve Lewis, 25, from Exmouth, took the 14:08 number 57 bus from outside her family's home to the church at RM Lympstone on Saturday.
She was accompanied by her father, a Royal Marine, in full dress uniform and five bridesmaids dressed in pink.
Her mother, Trish Lewis, told BBC News: "She thought it would be fun and very different."
Mrs Lewis said when the marriage to Michael Moulton-Brady was being planned her daughter had "procrastinated" about planning the wedding transport.
"I said to her you'd better sort this car out or you'll be going to the wedding on the number 57 bus.
"When she looked into the cost of a car she thought it wouldn't be worth the £200 or so."
She said her daughter, a student nurse at college in Manchester, liked things to be "a little different".
Mrs Lewis said they checked with the bus company Stagecoach that it would be OK for the bridal party to get on the bus, particularly because her husband would be carrying his ceremonial sword.
She said: "I stayed behind to watch her get on the bus, it was such fun, everybody was so surprised.
"The bus driver looked really bemused, they all just piled on and they looked so sweet.
"Everybody on the bus was thrilled, it was such a lovely day."
Mrs Lewis said the bus arrived at the Royal Marine's Lympstone training base on time and the ceremony was held in the church there.
She said her daughter and her new husband have now left for their honeymoon in Marrakesh, Morocco, by plane.