Torbay harbour bosses back Ark Royal sinking plans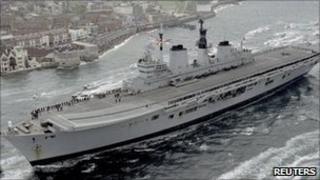 A Devon council committee is recommending plans to sink the former Royal Navy flagship Ark Royal off the coast to make an artificial reef.
Torbay Council's Harbour Committee said the council should lease a section of seabed from The Crown to put the decommissioned aircraft carrier on.
The charity behind the scheme, Wreck The World, said it would boost tourism and the local economy.
A final decision on going ahead will be taken by the bay's elected mayor.
Bid wait
If the plans go ahead, the Portsmouth-based aircraft carrier - the fifth vessel to carry the name HMS Ark Royal - would then be brought to the area and sunk about seven nautical miles (8 miles) out to sea.
The Crown Estate previously told the council the unitary authority had to take on such a lease because it did not want any other organisation to take it on in case it folded.
It successful, the council would then sublet the lease to the charity.
Wreck The World pointed to the success of another artificial reef off the South West. The HMS Scylla, a former Royal Navy frigate, sunk off Cornwall in 2004.
The site is home to about 250 species and can accommodate up to 300 divers a day.
The vessel, decommissioned in March after 25 years of service, was put up for sale on the Ministry of Defence (MoD) auction website.
Wreck The World said it believed it was up against about 20 other tenders for the Ark Royal.
It is not known when the MoD will reveal who the successful bidder is.