Exeter hospital security staff help dementia patients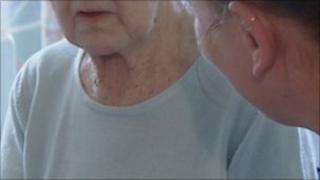 Dementia specialists and security staff at a Devon hospital are working together to help nurses manage agitated or aggressive dementia patients.
The Royal Devon and Exeter Hospital said the work was helping staff be aware of issues patients had.
Issues which caused reactions included patients becoming upset by unfamiliar surroundings.
The work was to prevent people from injuring themselves or others, the hospital said.
Dementia involves a decline of brain function, which is often marked by the loss of memory, speech, and emotional control.
Dr Vaughan Pearce of the hospital said the training was introduced after some patients had suffered injuries.
He said: "We felt it would be best that, rather than just calling security, that everyone - security staff, nurses - were fully in the picture of managing behavioural disturbance."
Security man and trainer Jason Burford has worked with psychiatric specialists to train staff to look after disturbed patients.
He said the bespoke training programme was to help and aid patients' care.
He said: "Restraining very elderly people doesn't really happen, it's more supporting them.
"We aim to prevent falls, and we aim to prevent them from causing harm to themselves and people around them."