Alex Hartley's voyage to create London 2012 'Nowhereisland'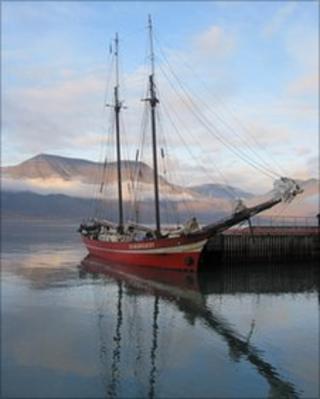 BBC Spotlight reporter Johnny Rutherford reports from the Arctic on an Olympic arts project to create "Nowhereisland", a floating island which will be towed around the South West coast as part of the London 2012 Cultural Olympiad.
I am on board the Noorderlicht, a 1910 schooner, sailing along the north west coastline of Svalbard, north of Norway.
Our destination is the spot where Devon sculptor Alex Hartley first discovered and named Nowhereisland in 2004.
Mr Hartley found the land on a climate change expedition in 2004.
The land mass is the size of a football pitch and was revealed from the melting ice of a retreating glacier.
Mr Hartley was the first human to set foot on it and he has invited 16 people with him on his latest voyage to help gather soil and rock to build the new "island".
The group, which will also act as a think tank, is made up of artists, academics, activists and students.
It includes two pupils from Illfracombe Arts College - 18-year-old Lydia Maloney and 17-year-old Charlie Logan.
During the three day voyage deep discussions are being held about the identity of the new island.
They include debates on how to engage the public with the "island" once it arrives off the UK and the ethics of taking it away from its original location.
Once the raw materials are gathered, the Noorderlicht will sail into international waters where Mr Hartley will declare Nowhereisland a new nation.
Next year it will be towed from Weymouth to Bristol as part of the Cultural Olympiad.
Accompanying it on land will be a truck known as the Embassy which will house much of the project's findings, expedition art and data on global warming.
The Noorderlicht is sailing in temperatures just below 0C (32F) and the sea conditions are rough with plenty of swell, which is causing many of the team members to suffer ill effects.
The project is one of 12 being funded nationally with £500,000 Cultural Olympiad grants from the Arts Council.
Mr Hartley said the Nowhereisland endeavour was "possibly the most engaging" of the projects, exploring ideas of citizenship and what it meant to belong to a nation.
Nowhereisland will be returned to its original home at the end of 2012.