Exeter crack cocaine and heroin gang jailed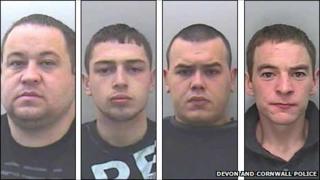 A gang of eight men who "flooded" a city with heroin and crack cocaine have been jailed.
Exeter Crown Court was told the LYNC gang boasted of being able to supply drugs in Exeter "all day, every day".
The gang used a park at Cowick Barton in the city as its centre of operations.
Two men from Greater Manchester - Kevin Newton, 30, and Billy Downing, 22 - were jailed for nine and five-and-a-half years respectively.
Three of the gang were from Dawlish in Devon. James Brooks, 32, and 27-year-old John Rowntree were both sentenced to five years, while 22-year-old John Bullock was jailed for 30 months.
Cannabis jail supply
Lloyd Simpson, 44, from Exeter, was sentenced to six years.
James Prince, 22, from Huddersfield was sentenced to 30 months and 28-year-old Anthony McStein, from Liverpool, was jailed for four years.
The gang were arrested after being monitored by police between October 2010 and March this year.
The force said information provided by local residents had been critical in bringing the "highly organised" gang to justice.
The drug dealers brought the heroin and crack cocaine into Devon on a regular basis from Manchester.
The court heard that not only did the gang boast about its ability to supply drugs, it also sent mobile phone text messages to addicts advertising when new supplies had arrived in the city.
Police said the gang's "utter disregard" for local communities and the welfare of the addicts they supplied "beggared belief".
The force praised local residents who worked with officers to provide information on the crimes, in order to "reclaim" their local playing fields.
"This is the core bedrock of local policing, working with the community, working with our partners in order to resolve an issue," Insp Jacqui Hawley said.
"We don't want drugs in Exeter. We want it to be a safe place and in the main it is."
A man and a woman were also sentenced at Exeter Crown Court for conspiring to supply cannabis to Brooks while he was on remand at HMP Exeter.
His 30-year-old wife, Donna was jailed for six months, while Blair Murray, 29, from Tyne and Wear, was sentenced to 12 months.