Traffic jam fear over Devon bridge demolition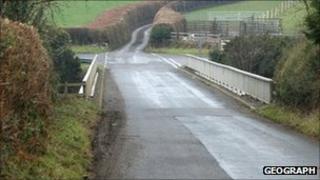 A Devon main road could be clogged up by tractors if a bridge over it is demolished, farmers have warned.
The Highways Agency says the concrete Dry Bridge, which links Dean Prior and Rattery on the A38, is becoming dangerous and has to be taken down.
The A38 slices through several farms which may be forced to use the main road if the bridge goes.
The Highways Agency said it would be consulting local people on all options, including building a new bridge.
'Recipe for disaster'
Farmer Chris Palk said he used the bridge at least 10 times a day at busy times of the year.
He said: "The Highways Agency doesn't like farm traffic on the main road at the best of times.
"Now they are creating a situation where they are going to put us on the A38.
"It's a recipe for disaster."
Paul Wotters, of the AA, said: "As traffic increases on the A38, the impact of losing that bridge could be very significant."
Peter Heron of the Highways Agency said some patching up work had been done in 1989, but the high cost of repairs meant the bridge would have to be demolished.
He said: "The bridge is not about to fall down. But its life is not going to go on too much longer and so we have to look at how we deal with it."
He said building a new bridge had to be justified by the numbers of people using it.
He said: "These days budgets are tight and we really have to look at the cost benefit analysis."