Plymouth park hosts university 'bugs count' event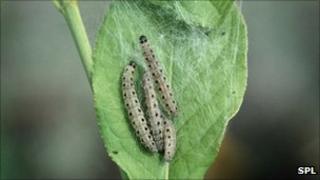 Families have been invited to help collect data on insects for a Plymouth University project.
The "bugs count" event at West Hoe Park on Saturday is part of a national scientific survey investigating bug and invertebrate populations.
It is being run by the Open Air Laboratories project (OPAL), a national group that engages communities with the natural world.
Organisers hope by involving the public more data can be collected.
The South West project is led by the university's School of Biomedical and Biological Sciences.
It is the first nationwide study looking at the population of a broad range of invertebrate groups, which are vital to life on earth.
The university said people at West Hoe Park should be able to see the huge diversity that can be found in the city's green spaces.
OPAL scientist Alison Smith said: "We will be looking at bugs, beetles and other mini-beasts, which are much easier to find and watch than other wildlife, so it is a great way to get into nature."
The survey involves finding as many bugs as possible in 15 minutes as well as different habitats, such as soil, short grass and hard, man-made surfaces.
The bugs count survey will take place from 11:00 until 16:00 BST.