Plymouth firefighters tackle Marsh Mills pallet blaze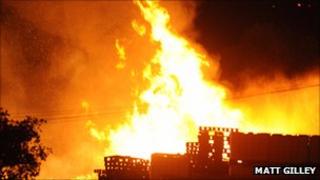 Firefighters have tackled a large blaze at a pallet yard in Plymouth.
They were alerted to the fire at Plymouth Pallet and Drum in Coypool Road, Marsh Mills, at about 21:00 BST on Friday.
The fire spread to nearby outbuildings, the fire service said. It was extinguished just before 05:00 and no-one was hurt.
Witnesses described flames "leaping into the air". An investigation has started into the cause.
Fire crews from Plympton, Greenbank, Camels Head and Plymstock fought the blaze, Devon and Somerset Fire and Rescue Service said.
The incident commander told BBC News the wooden pallets made the blaze "like the biggest bonfire in the world".
Fans who arrived by car to watch the Plymouth Devils speedway team had to leave their vehicles at the arena because of the blaze.
Claire Gulliver, who was travelling on a train from Plymouth to Exeter past the scene, said it as if the fire was "right next to the railway line".
She said: "It was like going through a tunnel of fire.
"We felt the roasting heat blast into the carriage. It was quite alarming."
The pallet yard was severely damaged by a suspicious fire in March 2009.