Two rescued after sailing boat sinks on River Teign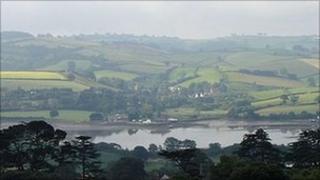 Two people have been rescued from a Devon river after their boat sank.
Brixham Coastguard said it received numerous 999 calls reporting that the 12ft (3.6m) double-masted sailing vessel was sinking on the River Teign.
The RNLI's Teignmouth lifeboat was called and rescued the crew near Coombe Cellars about 11:00 BST.
The man and woman were not wearing life jackets, said coastguards. Matthew Thornhill, of Brixham Coastguard, said they were "very lucky".
Only the vessel's two masts were visible above the water line when the lifeboat arrived.
It brought the pair ashore and paramedics assessed them before allowing them to return home.
Mr Thornhill said: "They were spotted from the shore by members of the public, who reported that the vessel was swamped and sunk very quickly.
"We always strongly recommend that people going out on the water should wear life jackets at all times and have some means of communication to alert us to trouble before going out."