Devon man's photographs of Victorian Burma in auction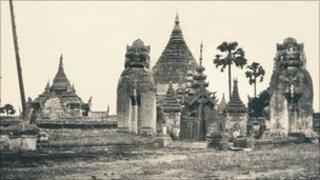 A volume of photographs of Burma taken by a Devon-born Victorian photographer are being put up for auction in London.
The 112 pictures, which were taken by Linnaeus Tripe in 1855, include scenes of Amarapura, the capital of upper Burma, Irrawaddy and Rangoon.
Mr Tripe, born in Devonport in 1822, was an Army officer who spent most of his career in India.
The volume, due to be sold in October, was expected to fetch between £70,000 and £90,000, auctioneers Bonhams said.
Mr Tripe recorded the Burmese buildings and landscapes over a 36-day period in June 1855.
His photographs were assembled into 50 sets of 120 images each.
'Astounding results'
Bonhams said the pictures were expected to fetch such a high price because very few complete or near complete sets were believed to have survived.
It added: "Tripe was an intrepid man and a true pioneer. The photographs in this volume were taken under very taxing conditions.
"Tripe himself was suffering from illness and the weather was bad.
"Instead of taking four months he'd set aside for the task, he had to achieve everything in 36 days.
"The results are astounding, it added.
The seller lives in the USA. The auction is due to take place on 4 October.