Devon tourism 'gets £17m boost'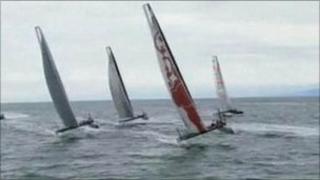 Authorities in Devon have estimated that £17m would have been spent during the America's Cup, The Tour of Britain cycle race and Agatha Christie Week.
Plymouth City Council, Devon County Council and the English Riviera Tourism Company said the amount would have been spent by visitors and competitors.
Some Plymouth businesses have complained they lost out to temporary traders during the America's Cup.
The city council said it was up to local businesses to attract trade.
'Unexpected' competition
It estimated that £10m would have been spent between the 10-18 September 2011 during the America's Cup World Series sailing event.
Some businesses said they had benefited from the event, but others said temporary stalls on Plymouth Hoe had stopped people from travelling to other areas of the city.
John Paskins, from Yarmouth Stores, said: "We were expecting improved business... what we weren't expecting was stalls to open up and sell the same sort of things."
Plymouth City Council said there had been extensive promotion of the event and it was up to local businesses to make the most of the opportunities.
The food outlets on the Hoe were run by First Cafe Ltd who said it could not comment on concerns raised.
'World stage'
An estimated £2m was spent during the Agatha Christie Week in Torbay according to the English Riviera Tourism Company.
Chief Executive Carolyn Custerson said: "Around 80-90% of economic benefit from the event will stay in the Bay.
"Events are really important, they extend the season and put the Riviera on the world stage."
The annual celebration of the writer was held between 11-18 September.
Devon County Council said it estimated £5m was spent in Devon during the Tour of Britain which came to the county on 15 September.
It added the estimation was based on figures from last year's event.