Tavistock woman and baby rescued from river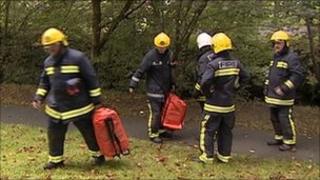 A woman and a baby have been rescued by a passer-by after falling into a fast-flowing Devon river.
The 31-year-old woman and boy, who was in a pushchair, were dragged out of the River Tavy in Tavistock at about 11:00 BST before firefighters arrived.
The baby suffered a head wound and both are being treated at Derriford Hospital in Plymouth. Their condition is unknown.
Police are not treating the incident as suspicious.
Firefighters who dragged the woman and the baby up the river bank, said it was lucky the pair were spotted by the passer-by.
Glenn Arundel, watch manager at Tavistock Fire Station, said: "There's a 10ft drop into the river at that point so it was quite difficult getting them out of the water.
"The worst case scenario was that they could have been sucked further down the river.
"Fortunately on this occasion they weren't."