Peregrine falcons found poisoned in Cornwall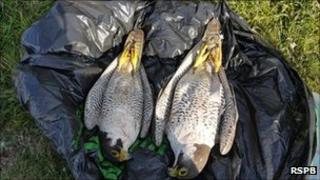 Two peregrine falcons have been found poisoned near St Just in Cornwall.
The RSPB said analysis of the male and female birds of prey showed they had ingested the banned pesticide Carbofuran.
It follows the poisoning of four goshawks and one buzzard which died in Devon from the same pesticide.
The RSPB said it feared a growing persecution of birds in the South West and has offered a £1,000 reward for information leading to a conviction.
The falcons were found by a member of the public on 21 July, having been seen alive just hours earlier hunting near their cliff-side nest, the RSPB said.
Peregrine have staged a successful comeback in much of South West England after almost dying out after World War II.
They have special protection under the Wildlife and Countryside Act.
Tony Whitehead, of the RSPB, said: "Sadly there are people that harbour grudges against these birds.
"But whatever drives people to do this, they are no more than common criminals."
Following the discovery, Natural England's wildlife incident investigation team began an investigation.