Devon County Council warns over further £40m cuts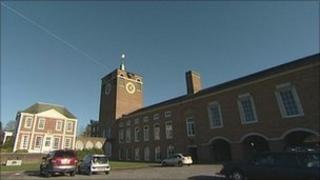 Devon County Council has said it needs to save a further £40m in the next financial year.
The council's savings are on top of the £54m of cuts it has made during 2011/12.
The council said that more than a quarter of the savings would come from reducing management and backroom staff.
The Conservative-controlled authority said it could not rule out compulsory redundancies.
A series of public consultation meetings into the savings plans will start in October.
The authority has said reducing management, administrative and back room staff would save more than £10m.
Brian Greenslade, the Liberal Democrat shadow leader of the council, said that despite the "huge figures" that "a lot of financial resource was being still spent by the county council".
However, he added: "But it does mean that some of the very good things that the community gets just simply won't get done.
"One: there's no money to pay for it, and, two: there aren't any people to deliver it."