Bus between St Marychurch and Torbay hospital to return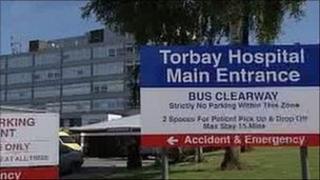 A Torbay bus service is being reinstated at a cost of £25,000 to the local authority after it decided it was a vital route.
The service from St Marychurch to Torbay hospital was cut by Stagecoach in April, but the council has agreed to reinstate an off-peak service.
Residents need it to get to the hospital, the authority said.
The service will start on Monday and the council said it could have a more permanent future if people use it.
Transport campaigner Andrew Bell said: "It's welcome news... we've heard about cuts to bus services in the county, but it's great that the council has acknowledged the importance of the service.
"I think it's good value for money."
Earlier in the year, Stagecoach Devon told the council it had decided to cut the service because of commercial reasons.
Executive lead for safer communities and transport Robert Excell said: "We hope that people will use the reinstated bus service to help ensure its longer-term viability."