East Devon traders could pay shoppers' parking fees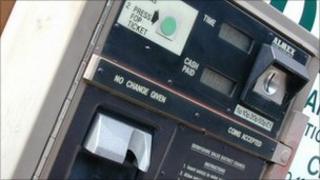 Traders in east Devon could be asked to refund shoppers part of their car parking fees.
East Devon District Council says the plan, which would be optional for traders, could bring in more business to town centres.
It is also suggesting raising prices in short-stay car parks "to make sure they are still being used efficiently".
Net income from east Devon car parks, including season tickets and penalty charges, was £2.14m last year.
The council carried out a review of car parks for consultation with local people.
It said car parks raised "significant revenue income which would otherwise have to be found from somewhere else".
'Benefit for all'
Councillors wanted to "make sure they are still being used efficiently, as current arrangements have developed over a long period of time".
Bill Leach, from the Albion Shoe Repair shop in Exmouth, said: "I don't like the idea of subsidising the general public.
"Everybody is using the car parks so why should it be down to me to subsidise them?"
Councillor Iain Chubb said the aim was to get more people in town centres "so we all benefit".
He added: "I don't think shopkeepers should be asked to recompense customers, and at the end of the day I doubt whether they will be."