Exeter University pledge on poorer students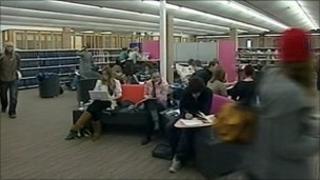 Exeter University has said it is working hard to attract more students from poorer homes and neighbourhoods.
It was named among 44 higher education institutions across England who have not met fair access targets they set themselves for 2009/10.
The university admitted that its progress had been "less than anticipated".
But it said it would be spending £5.5m in 2012/13 supporting students from poorer backgrounds.
The university was named with Plymouth College of Art among colleges which failed to meet targets in figures from the Office for Fair Access (Offa).
Offa said Exeter has historically performed below targets for students from state schools and from low income backgrounds.
Ian Blenkharn, head of admissions at Exeter University, said: "We are investing hugely in the future to increase our position with regards to widening participation.
"We are going to be investing £5.5m in 2012/13 on financial support, fee waivers and bursaries for those from a low income background.
"The financial package we are putting in place should mean that students from a low income background aren't deterred.
"Students from care backgrounds for example will pay no fees whatsoever.
"So we are doing what we can I think to make sure that students from those low income backgrounds aren't deterred."