Air South West to leave Newquay Airport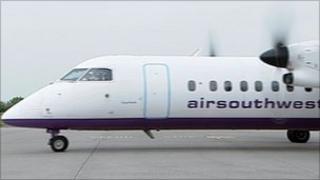 Air South West has made its last flight out of Newquay Airport in Cornwall.
The airline blamed lack of demand for its flights to Aberdeen, Bristol, Cork, Dublin and Leeds Bradford.
It pulled out of Plymouth Airport in August, transferring passengers via bus to Newquay.
The firm said it had planned to fly out of Newquay while Plymouth Airport remained open, but flights had not been "financially viable".
All air traffic from Plymouth will cease on 23 December when airport operators, Sutton Harbour Holdings, closes the business.
Air South West's last flight left Newquay at 12:05 BST for Dublin.
Eastern International declined to comment on the future of Air South West.
Al Titterington, Newquay Airport's managing director, called it a "sad day" for air services to and from Cornwall, but said the airport was asking other airlines to take on Air South West services.
He added: "Air South West dominated our domestic route network meaning other carriers were restricted with the services they could offer and the demand for air services that would make them profitable out of Newquay.
"Since the announcement of the closure of the airline in mid July we have been in discussion with a number of airlines and already have announced replacement services to Manchester (Flybe) and Glasgow (Loganair) and hope to announce new destinations in the coming months for summer 2012."
Newquay continues to fly up to three times a day to London Gatwick, up to four times a day to Isles of Scilly and four times a week to Manchester through the winter.
In the summer it flies to East Midlands, Glasgow, Edinburgh and Dusseldorf, as well as charter holidays to Dubrovnik, Lake Garda and Madeira.