Torquay cab driver Jordan Brokenshire assaulted women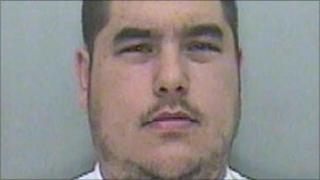 A Devon seaside town cab driver faces jail for sexually assaulting young female passengers.
Jordan Brokenshire, 28, of Broadpark Road, Paignton, preyed on two women who he drove home from nights out in Torquay, Exeter Crown Court heard.
He was convicted of two counts of assault and two of sexual activity without consent.
Adjourning the case for reports, Judge Graham Cottle said Brokenshire should expect about eight years jail.
Sean Brunton, prosecuting, said Brokenshire had assaulted both women after they had been drinking on a Friday night in 2010.
The court heard that he had asked to use the toilet at the home of a 21-year-old woman, forced himself on her and assaulted her on her bed.
Police were later called by an 18-year-old girl who said she was being taken home by Brokenshire when he assaulted her.
Brokenshire had already received a police warning about his behaviour after molesting a 17-year-old girl who he had taken home just months before, the court was told.