Sharing lifts 'could halve' Devon drivers fuel costs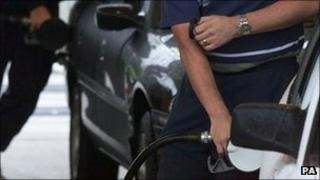 Drivers in Devon could halve their commuting fuel costs if they were prepared to car share, the county council has said.
As part of its "liftshare" week, the council is encouraging people to sign up to Carshare Devon to see how much money they could save.
The free service run by Devon County, with Plymouth and Torbay councils, already has about 8,500 members.
It allows people across the South West to find others to share their journey.
Car sharing can include taking turns with driving or offering someone a lift in exchange for a contribution to the fuel costs.
Robert Willis, from Okehampton, said since joining the scheme he had reduced his driving miles from 1,200 per month to 360, resulting in a saving of £60 per week.
He said: "I regularly share from Okehampton to Pynes Hill in Exeter with three other people.
"We don't all work at the same site but have mutually agreed pick up and drop off points."
Kevan Davies, from Willand, has a flexible car sharing arrangement with three other people, who live in the Willand and Cullompton area.
"We aren't able to car share every day but do so as often as we can," he said.
"We enjoy having a chat and find the journey goes much quicker and I also fill up with fuel a lot less since I've been sharing."
Stuart Hughes, Devon County Council's cabinet member for highways and transportation, said it was possible to halve journey fuel costs by sharing with one other person.
"Petrol cost just 70p per litre in 1999 - now it is almost double that," he said.
"Share with two other people and you'll be getting your fuel cost down to about 46p per litre.
"Record prices at the pumps have really hit drivers hard, and we want to take the sting out of that."
The Conservative-led council said people interested in the scheme could post the journeys they want to share on Facebook and Twitter.