Mobile phone app for Cornwall's coast path walkers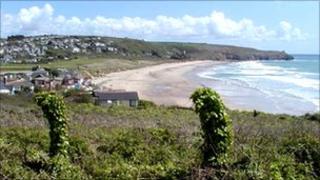 Maps and guides of Cornwall's coast path have been made available for download on mobile phones in a drive to attract more visitors.
The £2m campaign offers walkers the opportunity to obtain detailed route information by scanning a barcode from a coast path map board.
Praa Sands is one of the first areas to benefit from the new boards.
Mark Owen, coast path trails manager, said it will bring the "whole concept of walking into the 21st Century".
The south west coast path stretches 630 miles and includes a National Park and five Areas of Outstanding Natural Beauty (AONB).
Mr Owen said the new technology "will be totally mobile phone-friendly".
"After you have downloaded the application, it will know when you log on, where you are, so therefore it will be able to bring up walks close to you."
Simon Spencer, general manager of Praa Sands Holiday Park, said: "The area around Praa Sands is a relatively undiscovered part of Cornwall and with the help of the new boards and the Quick Response (QR) barcode technology, visitors to the area can explore it more easily."
The project is a partnership between Cornwall Council, Breage Parish Council, the South West Coast Path team and the private sector.