Song sold for BBC Radio Devon Air Ambulance Appeal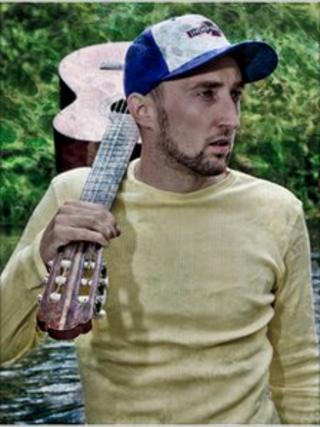 A local songwriter has released a track called Radio Devon, with the money raised from downloads of the song going to the station's Air Ambulance Appeal.
Last Child Dancing, is the stage name for songwriter, Christopher Moore, who recently moved from London to Devon.
Each time his song is downloaded from iTunes or Amazon, 50% will be donated to the radio station's appeal.
Radio Devon is hoping to raise £600,000 by the end of 2011 for a new air ambulance for the county.
The song was debuted on John Govier's Show on BBC Radio Devon which features local musicians each Saturday morning:
Moore, who is currently unsigned to a label, has supported Athlete, The Bluetones and Shy Fx in concert.
He has called his style of music folk-hop as the songs merge his rapping and spoken word with a traditional acoustic sound.
He has performed at BBC Radio Devon on a number of occasions and said he was "proud to support a worthy cause".
"The song is about being on Radio Devon and my thoughts about the Air Ambulance Appeal," he said.
Radio Devon by Chris Moore (Last Child Dancing)
(1) Out here, in the countryside
Away from paranoid people as we paraglide
Through our lives
And maybe you can play us what we like…
I'm tuned in, and the telly's off
Or in the car as I'm passing Mr Credicott
And his wife
And half a dozen people on their bikes…
…and Radio Devon's gonna help me live this moment twice.
(2) Part of, the community
It's exposed but there isn't any nudity
Well not yet
But I'd put a bit of money on that bet…
Spare change, for the charity
Buy a new helicopter fighting gravity
Not debt
Cos' it will come and get you when you're wet…
…and Radio Devon's gonna help m buy my jumbo jet.
Chorus
So many songs, far too many to decide
Just tune in for the ride
And let the soundtrack of your day begin.
Up here in my tree house, an ocean by my side
The radio waves and tide
Are on the push so I don't need to swim.
(3) Folk songs, nostalgic memories
Driving home when I haven't any energy
Not quite
But it's nearly the middle of the night…
Dartmoor, with the stars out
Look around can't see any other cars now
Or bikes
In the distance there's a shimmering of lights…
…and Radio Devon's gonna be there when they're out of sight.
Chorus
Verse 1 repeat
Chorus x2…
…so just keep tuning in.