New obesity and diabetes research centre for south west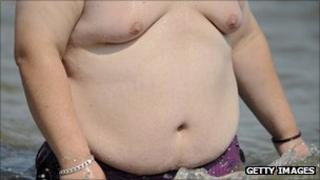 A £19m research centre to be based in Devon has been given the go ahead.
The centre will feature modern facilities for on-site research into the treatment of conditions such as diabetes and obesity.
The government has warned in the past that obese and overweight people would cost the taxpayer in England £50bn by 2050.
Work will begin on the new centre in spring, with completion scheduled for autumn 2013.
The project involves the Royal Devon and Exeter (RD&E) NHS Foundation Trust in partnership with the Peninsula College of Medicine and Dentistry and the University of Exeter in August.
It has now received the unanimous backing of Exeter City Council's planning committee.
Professor Janice Kay, Deputy Vice-Chancellor of the University of Exeter said: "This world-class facility will enhance the reputation of research from the region and benefit patients in the South West and around the world.
"It will help Exeter further its reputation for being a leading centre for medical research, particularly around diabetes. This kind of investment is vital to support research and education which improves lives and helps benefit the local economy."
The building, at the RD&E Wonford site, will replace the Trust's existing postgraduate education centre, which is set to be demolished in early 2012.