Plymouth Argyle Home Park stadium council sale talks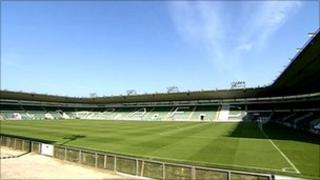 Plymouth City Council is considering buying back Home Park football ground as part of a rescue bid for Plymouth Argyle FC, it has confirmed.
It is to hold talks next week to look into taking back the ground which it sold to Argyle five years ago.
The Conservative council's leader, Vivien Pengelly, said the full council would have to support such a plan.
She added that, if it were to happen, it would be on a commercial basis with the authority receiving rental income.
'Economically important'
The ground was sold to Argyle in 2006 by the city's then Labour administration for about £2.7m.
However, the club went into administration last December and sits bottom of the Football League.
The club is the subject of a takeover bid by businessman James Brent, but the council said despite this other options were being considered to help it survive.
Ms Pengelly said: "If this [the stadium buy] were to happen, it would have to be on a commercial basis, ie: the council will get a rental income from it, and council tax payers' money would not be used to support the club.
"Clearly, this would need to be subject to due diligence checks and approval by the full council.
"We believe it is important economically for a city of this size to have a professional and well-supported football club. It keeps Plymouth on the national stage and encourages people to visit the city."
'Profit for taxpayers'
The proposal comes 10 months after the Tories dismissed a motion from Labour to buy the stadium.
Plymouth Labour leader Tudor Evans said he was glad the proposal was now being considered.
He said: "All the tenure period it will pay itself back, so it won't be a cost to the tax payer.
"Then the council will have, going forward for itself, an asset which will generate income.
"It would make a profit, to put it in very crude terms, for the taxpayer."
The council is due to discuss the plans on Monday.